Login to My Account to see what's out on your library card, renew, place holds, or check your Reading History to review items you have read or viewed.
Search the Library Catalog to see if the book, DVD, magazine, etc. is in North Haven, or 35 other libraries.
Download free e-books and audiobooks  from our Overdrive site.
Download free magazine issues from Zinio.
Download free movies, music and audiobooks from Hoopla.
Receive e-mail or text reminders of  items due, overdue, and ready for pick up.  Sign up for Library ELF Notification Service.

July 2, 2010
Posted in: -
Comments Closed
If you request library materials from outside of our LION consortium, please note:
Due to budget cuts at the Connecticut State Library, ReQuest, the statewide library catalog and interlibrary loan service will be suspended on June 30, 2015. The North Haven Library will stop InterLibrary Loan (ILL) services through ReQuest on May 15, 2015. The Connecticut State Library hopes to have a new interlibrary loan service up and running by fall 2015.
Click here for more information about the suspension of these services.
April 24, 2015
Posted in: -
Comments Closed
Thursday, May 14 at 7:00 – 8:00pm
Take a tour of the night sky and learn about the constellations that are visible during the spring months. Discover stargazing tips and learn how to find your way in the night sky. There are several planets that are visible now – find out how to identify these too.
For ages 5 to 105!
Register online here, stop by the Reference Desk, or call 203-239-5803 to sign up.
April 23, 2015
Posted in: -
Comments Closed
Saturday, May 2, 2015 at 1:00 – 3:00pm
Are you an avid reader of romance, mystery, historical or science fiction, or interested in writing a fiction novel? Are you curious about how fiction authors develop characters, dialogue, setting, plot, chapters, plot twists, story ideas, and sequels? Fiction authors Paul Colella, Molly D'Andrea, Michael Draper, and Ann White Lombardi will give a presentation followed by a Q & A session with the audience.
The presentation will focus on pre-edited and edited manuscripts, rough drafts, brainstorming, book designs and titles, page and chapter formatting, copyrighting, endorsements, dedications, book reviews, readers' feedback, and more. Come and join these authors on their journey through fiction writing.
Books may be purchased after the program. Refreshments will be served.
Register online here, stop by the Reference Desk, or call 203-239-5803 to sign up.
April 21, 2015
Posted in: -
Comments Closed
Masonicare presents a Lunch 'Äėn Learn –
Hear & Now

Monday, May 4,¬†2015 ~ 11:30am 'Äď 1:00pm
Losing the ability to hear clearly can cause you or a loved one to lose so much more. Dinner with friends, a movie with your spouse, or phone calls from grandchildren can become simple exercises in frustration if you're straining to keep up with the conversation.
Hillary H. Lewis, Director of Audiology at Masonicare Health Center in Wallingford, will discuss the many common misconceptions about hearing loss and amplification, explores the recent new features and advancements that have been made in hearing aid technology, and explains how hearing rehabilitation and hearing aids can greatly improve your quality of life.
A FREE Lunch is served after the talk.
Registration is required, and ends on Monday, April 27th.
Register online here, stop by the Reference Desk or call 203-239-5803 to sign up.
April 3, 2015
Posted in: -
Comments Closed
Sensory Storytime
Saturday, March 14, 28, April 18, & 25¬†at 10:30 'Äď 11:30 a.m.
Ages 4 'Äď 10 and their family
Sensory Storytime¬†is¬†a new interactive program geared specifically for children with special needs ages 4 'Äď 10.¬† This storytime, designed to engage kids through movement, music, stories and sensory activity play, is ideal for children with autism spectrum disorders, those who are sensitive to sensory overload or for children who have difficulty sitting still. We hope to provide a welcoming, encouraging, and supportive place for you and your child.
Registration is required and begins on Friday, Friday, February 27th at 10 a.m. for residents and non-residents. Register here.
Flight School (3 week series)
Tuesdays, April 14, 21, 28 at 6:30 'Äst7:30 P.M.
Ages 9-13
Explore the
science of flight and air related principles through hands-on activities, simple science experiments and cool demonstrations. Here's your chance to make a stomp rocket, propel a helicopter, and fly your own plane!
Registration is required and begins on Friday, March 20th  at 10 a.m. for residents (online registration begins at 10:30 a.m) and Friday, March 27th  at 10 a.m. for non-residents. Register here.
Dads and Me РMother's Day Craft
Wednesday, May 6th at 6:30 p.m. 'Äď 7:15
Ages 5 – 10
Surprise your mom by making a planter to place in your garden which will attract beautiful butterflies!  Bring your Dad to assist in making this memorable gift.
Registration is required and begins on Friday,  April 10th at 10 a.m. for residents and Friday, April 17th   at 10 a.m. for non-residents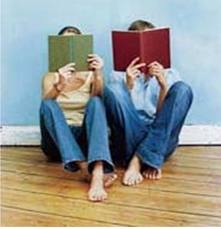 Tween Talk
Monday, May 11th  at 6:30-7:15
Grades 5 'Äď 8
This is a book club dedicated to tweens who love to discuss books. Here's the place to talk, read, and have fun.  Members of this group will have first dibs on the library's newest books. After reading the book of your choice, you will then have the opportunity to share your opinions with others.  Please pick up the book of your choice from our newest selection and read this book before the group meets. Registration is ongoing.
LEGO¬ģ Fun Club
Thursday,¬† May 21at 6:30 'Äď 7:30p.m.
Ages 5 'Äď 12
Drop by the library and create with LEGO! We provide the LEGO and you provide the imagination!  No registration required.
For a complete list of Children's Programs click here.
March 25, 2015
Posted in: -
Comments Closed
North Haven card holders can now borrow thousands of titles from major Hollywood studios, record companies and publishers, available 24/7, by following the link from the North Haven Library website northhavenlibrary.net or by visiting hoopladigital.com and signing in with a North Haven Library card. A free mobile app is available for Android and IOS devices.
With hoopla digital, North Haven residents can borrow, and instantly stream and download free dynamic content using their valid North Haven library card.  Movies may be borrowed for 3 days, music for 7 days, and audiobooks for 21 days. Titles will automatically disappear from the borrower's device at the end of the loan period. Residents will be able to borrow up to 10 titles per month.
February 2, 2015
Posted in: -
Comments Closed
The North Haven Library  offers Transparent Language Online to residents, free of charge.  Available for learning 95+ languages, plus English as a Second Language (ESL) materials for native speakers of 26+ languages, the program has something for every learner:
Alphabet Courses: Full-length alphabet courses are available for 18+ languages to familiarize you with new writing systems, empowering you to learn one (or more!) of those 'Äúintimidating'ÄĚ languages like Mandarin Chinese, Hindi, or Arabic.
Essentials Courses: These courses guide you through 30+ lessons of pure language fundamentals, including meeting and greeting, expressing wants and needs, planning for a trip, dealing with money, asking for help, and beyond.
Supplemental Vocabulary: Hundreds of topically-organized vocabulary lists will teach you thousands of new words and phrases through a completely redesigned suite of fun, interactive activities that build all four core language skills: listening, speaking, reading, and writing. No more drilling paper flashcards!
Grammar Reference: An extensive index of grammar materials rounds out the learning experience, providing both written and multimedia explanations of grammar rules and patterns
Sign up today with your North Haven Library card!
January 3, 2015
Posted in: -
Comments Closed


In case you missed it, click here to
read an article about our cake pans
that is featured on the PBS Newshour
website.
Please click here for
more information on our cake pans.
December 26, 2014
Posted in: -
Comments Closed
We now offer the opportunity to see FREE Long Wharf Theatre performances.
One voucher per day to Long Wharf Theatre is available as part of our Museum Pass Program. The voucher is good for two free adult tickets and is valid until the next day after being handed out. This offer is made possible through the generous support of the Friends of the Library and runs through May 2015.
December 11, 2014
Posted in: -
Comments Closed
BookFlix is an interactive literacy resource that pairs classic fiction storybooks  with non-fiction eBooks. With colorful animation and interactive games, BookFlix introduces children to a world of knowledge and exploration.  BookFlix has over 100 titles with read-along options to develop listening and reading comprehension.
Access BookFlix from home by using your North Haven library card.  BookFlix is also available at the computer stations in the Children's Department of the library.
November 1, 2014
Posted in: -
Comments Closed